Outback Lakeside Resort
9845 Eastside Road, Vernon, BC V1H 1Z2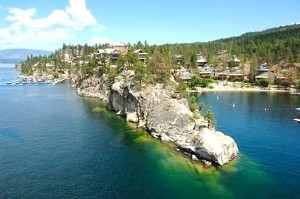 | | |
| --- | --- |
| Area: | Okanagan Landing |
| Building type: | Single Family, Duplex, Fourplex |
| Year Built: | 2007 |
| Number of units: | 185 |
| Number of floors: | 1-3 |
| Pets: | 2 dogs or 2 dogs and one cat or two cats and one dog |
| Parking: | Mostly Open |
| RV Parking: | No |
Located on the outskirts of Vernon BC, and nestled in a secluded bay, The Outback Lakeside Resort in Okanagan Landing provides an unforgettable escape.
The resort is divided into several exclusive "neighborhoods," each with its own unique and distinct character and qualities. From the rustic, natural beauty of the Forest Cabins to the chic, breathtaking elegance of the Ridge Homes, The Outback offers an opportunity to satisfy every preference. The Outback Lakeside Resort in Vernon BC can be your own private paradise on Okanagan Lake.
Lose yourself as you soak up the day in the beach side tranquility pool, hike, bike or take a stroll through the granite tunnel. Enjoy the 60-acres of woodlands on the shores of Okanagan Lake - a preserved natural environment edged with granite bluffs dropping to the water, or hang out at the Owner's Lodge.
The Outback Lakeside Resort is great for year round living, or your vacation escape. A full time rental management company is available with a stellar track record to supplement your vacation home or provide you with a turnkey full time rental investment. The choice is yours.
Securely gated waterfront resort community with over 4000 feet of prime Okanagan beachfront.
60 acres of preserved woodland and easy access to 240 acres of park next door at Ellison Provincial Park.
17 km drive from downtown Vernon (20 minutes).
Hiking and biking trails nearby.
Miles and miles of beautiful Okanagan Lake to explore.
Rental program available by on site management.
Owner's Lodge with gym, social room (owners and guests only) with playground area.
Marina with slips for rental or purchase (more details here)
Strata Fee includes contingency fund, landscaping, management, snow removal, garbage, water, sewer, owner's lodge, playground, pools, hot tubs, geothermal tennis courts, marina, maintenance/upkeep of Trout Lake as well as everything outside the building envelope. Truly a turn key, no hassle investment!
TROUT LAKE:
Trout Lake is a 2 acre man-made lake (mosquitos are kept under control because of the flowing, clean water).
Convenient and easy access from the three main parking lots.
A combination of 2 bedroom lower units and 3 bedroom upper units in fourplexes as well as an assortment of duplex units.
FOREST CABINS:
Unique detached cabins set in the woodlands for those who wish more privacy.

Most units include a Casita – a separate bedroom with full ensuite bathroom.

Private decks with barn door entry.

Vaulted ceilings inside plus lovely large picture windows.

Exterior storage provided as well, some units have additional.

Main level bedrooms plus upstairs master suite includes full ensuite bathrooms.

Easy walk to pool, hot tubs, beach and tennis courts
SOUTH BAY:
Your choice of upper or lower units.
Upper units have vaulted ceilings, loft area and rooftop patios.
Lovely decks and patio areas on both upper and lower units.
Short walk to the beach and pool area.
Extra storage outside units.
Cozy fireplaces and timber beam features.
Most units have covered parking associated with the unit.
RIDGE HOMES:
Unique and prestigious homes with chic, breathtaking elegance and privacy.

Most have gorgeous panoramic views from the stunning floor to ceiling windows and stunning architectural features.

Beautifully open floor plans and layouts - many unique options.

Stand-alone homes plus some duplexes.

Geothermal heating/cooling in most Ridge Homes.
QUARRY BAY:
Take a stroll through the granite tunnel leading to the quiet beach, fire pit and picnic area.
Steps to the quiet and serenity of Quarry Bay Beach in this prime location.
A combination of townhomes, villas and ridge homes.
Elevator access to the beach, man made cave, water toy storage and boardwalk.
Many units have access to covered parking.
Two wonderful beaches - South Bay and Quarry Bay
Two outdoor pools - Trout Lake and South Bay
Three hot tubs - Trout Lake, Quarry Bay and South Bay
Marina with private interests in the slips, and also available for rent
Tennis Courts
Elevator access to Quarry Bay amenities
Owners Lodge
Playground for the kids
For more information or your own private viewing of the Outback Lakeside Resort, call the Outback experts at RE/MAX Vernon Salt Fowler today at 250-549-7258 or fill out the form at the bottom of this page.
Current Listings
Data was last updated December 6, 2023 at 06:45 PM (UTC)
---
Looking to Move to Vernon BC? Here are 8 Reasons Why You'll LOVE It!
8 MORE Reasons to Move to Vernon BC and Why You'll LOVE It!